Host profile: Jack Sullivan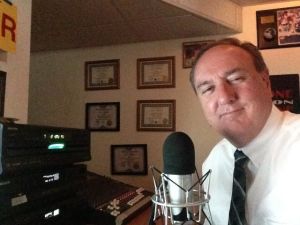 Cruiser's Radio Program Monday Nights 9:30 PM - 12:00 AM on WESU 88.1 FM
Jack Sullivan produces and hosts Cruiser's Radio Program heard exclusively on WESU 88.1 FM.
Cruiser's Radio Program airs "LIVE" every Monday night during the 2017 Summer season between 9:30 PM and 12:00 AM . The format includes rock & roll music from the 1950s and 1960s, TV Trivia and Jack takes YOUR calls. It's a nostalgic trip back to your 1950s - 1960s childhood every Monday night at 9:30 PM.
About Jack - Jack Sullivan is a grisled veteran of the broadcast industry and has been a Public Address Announcer for both the New Haven County Cutters CanAm Baseball Team and the Quinnipiac Bobcats Basketball Team. Jack was also Vice-President of his towns local cable access channel and produced LIVE local programming as well as High School Sports. Jack has earned more that ten CAP awards for Television production including Best Live Programming, Best Sports Programming and Best Sports Event. Jack also serves on the WESU Board of Directors as Community Liaison.
"I really enjoy working together with the student DJs and those community volunteers that have long running programs at WESU. It's a real family at WESU" - Jack Sullivan
Among Jack's colleagues, he enjoys spending time in the studio with Psychedelic Rick, Uncle John, Al Robinson, Deni Young, Billy Johnstone, John Way, Eloise Tencher, Chip Austin, Dave Bauer, Bill Denart, Mike Benson and Jim Santa Barbara. Of course, we must make mention of our outstanding GM at WESU, Ben Michael, often the foil of Jack's on-air rants. Jack has had the opportunity to host many new and upcoming DJ's at WESU. Two, Johnny Ganoch and Jimmy Z have gone on to host their own programs at WESU.
Jack lives in Wallingford, Connecticut with his wife Suzanne and daughter Riley. Jack also has a son, Ryan, and three grandsons living in the Bay area of California. Jack enjoys spending time with his family, attending his daughters basketball games, serving the town of Wallingford as a Town Councilor, and getting his Z28 Convertible out on nice days.
Finally, Jack's one passion is cracking the microphone on Monday Nights, playing great music, and hearing from his listeners. You can call Jack LIVE in the Studio any Monday night between 9:30 PM and 12:00 AM AT 860-685-7700.
Tune in to Cruiser's Radio Program with Jack Sullivan every Monday Night at 9:30 PM exclusively on WESU 88.1 FM
Jack's email address is jacksullivanwesu@snet.net
Hosted shows