Host profile: DJ Donovan(madman)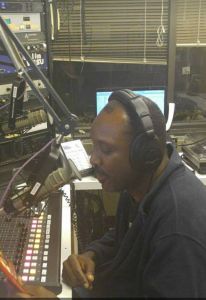 Donovan Longmore is an avid entrepreneur who has over 30 years in the entertainment, finance and healthcare industries. Born and raised in Montego Bay, Jamaica, it was always a delight for this music guru to listen and carefully studied on air personalities. Donovan migrated to the U.S. in the early 80's with a vision of making Jamaica a better place for all. Surprised at the limited access of Caribbean music on local radio stations, he wanted to make a vast change. While studying Accounting at Central Connecticut State University, he wanted to bring more of a Caribbean vibes to college radio. That dream became a reality when he became an on air personality on WFCS in 1988. This enabled him to host, market, advertise and promote many concerts, fashion shows, forums and programs throughout the US and Caribbean. His passion and devotion to help others in the Caribbean Diaspora have propelled him to be an active advocate for many worthy causes in the West Indian Spectrum. Mr. Longmore decided to put forth his GOD given talent to help bring changes in his community. He was recently selected to be the Co-Chair for the state of Connecticut representative for the Northeast region of the Global Jamaica Diaspora Council. He is the Marketing Director of Agrom Industries LTD, a nutraceutical food and beverage company that will brand products and services out of Jamaica and other parts of the Caribbean through agriculture. A loving and devoted husband, father, mentor, tutor, speaker and basketball coach; he credits his mother for teaching him the way of life, "GOD and Family First". He passionately believes that all things are possible through Christ. He hosts a radio program entitled "Reggae Voyage" on Saturdays at 8:00pm on WESU 88.1FM (www.wesufm.org) and is the host of a television show entitled "Long Talks". The purposes of the shows are to educate, inspire, inform, and entertain the community while spreading the Love and Culture of the Caribbean through Music and conversations. His mission is to do public speaking for youths, as well as, missionary work and promote educational programs and events that will help improve the livelihood of others. Mr. Longmore and his wife Jackie are putting together a non-profit organization to help needy children in Jamaica. This is part of his marketing concept with an effort of making for a Better World through healing, skilled training, media, business, music, fashion, sports, movies, education and social networking. He is also a volunteer at Bloomfield Congregational Church where he serves food to the community.
Donovan Longmore can be reached at email: longmore4@gmail.com
Ph. 1-860-777-7558 or 1-860-890-0529. GOD BLESS....
Hosted shows