Host profile: Jack Sullivan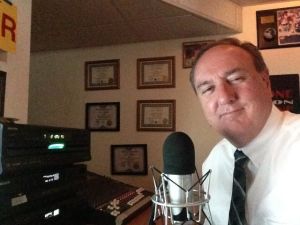 Cruiser's Radio Program Monday Nights 9:30 PM - 11:00 PM on WESU 88.1 FM
Jack Sullivan produces and hosts Cruiser's Radio Program heard exclusively on WESU 88.1 FM.
Cruiser's Radio Program airs LIVE every Monday night between 9:30 and 11:00 PM. The format includes rock & roll music from the 1950s and 1960s, TV Trivia and YOUR calls. It's a nostalgic trip back to your childhood every Monday night at 9:30 PM.
About Jack - Jack Sullivan is a grisled veteran of the broadcast industry and has been a Public Address Announcer for both the New Haven County Cutters CanAm Baseball Team and the Quinnipiac Bobcats Basketball Team. Jack was also Vice-President of his towns local cable access channel and produced LIVE local programming as well as High School Sports.
Jack lives in Wallingford, Connecticut with his wife Suzanne and daughter Riley. Jack also has a son, Ryan, and three grandsons living in the Bay area of California. Jack enjoys spending time with his family, attending his daughters basketball games, serving the town of Wallingford as a Town Councilor, and getting his Z28 Convertible out on nice days.
Finally, Jack's one passion is cracking the microphone on Monday Nights, playing great music, and hearing from his listeners. You can call Jack LIVE in the Studio any Monday night between 9:30 and 11:00 PM AT 860-685-7700.
Tune in to Cruiser's Radio Program with Jack Sullivan every Monday Night at 9:30 PM exclusively on WESU 88.1 FM
Jack's email address is jacksullivanwesu@snet.net